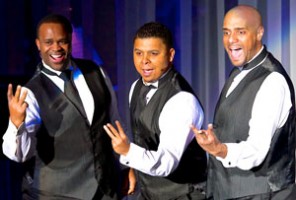 THREE MO' TENORS is the brainchild of Marion J. Caffey, a highly acclaimed veteran Broadway performer, writer and director. While watching the 1994 PBS Television special The Three Tenors – Live at Dodger Stadium, Caffey's Eureka moment occurred when Luciano Pavarotti, Plácido Domingo and José Carreras ventured into musical territory outside their forte — the operatic / classical genre. They took that musical leap with tongue planted firmly in cheek.
What Caffey knew and suspected many others did not know, was that there are African-American classically trained tenors that actually sing many other styles of music while maintaining the integrity of each style. The seed for THREE MO' TENORS was planted. Caffey's vision was to introduce the world to as many of these versatile artists as possible, three at a time.
The first production of the theatrically staged concert was born in 2001 in New York City, when it was televised by PBS' Great Performances and RCA released a live recording of the show. Since its beginning, THREE MO' TENORS has introduced more than 11 classically trained yet vocally versatile tenors to the world — England, Scotland, Russia, Armenia, Paraguay and Canada. You can find them on Broadway, the Metropolitan Opera, in major universities and performance houses around the globe.
The tenors of THREE MO' TENORS are men who have developed a musical repertoire with astonishing breadth. Like Olympic decathlon athletes, these classically trained, multi-talented operatic tenors can do it all! The concert begins with classical opera and goes on to feature Jazz, Gospel, Soul, Spirituals, Pop, Broadway, Rock, World and the Blues, spanning four hundred years of music — all in one entertaining evening.
THREE MO' TENORS is about more than just three men. It is a story about the history and the future of exceptional Black tenors who deserve to be heard. As long as there are more undiscovered tenors waiting in the wings, THREE MO' TENORS will be here to help tell their amazing story.