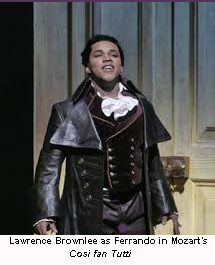 Lawrence Brownlee , born 1972 in Youngstown, Ohio, is one of the most in-demand operatic tenors in the world in the bel canto "beautiful singing" repertoire, distinguished by its high flying top notes.. Describing his voice, Speight Jenkins, general director of the Seattle Opera, said: "There are other singers that sing this repertory very well, but I don't think anyone else has quite as beautiful a sound and as rounded a tone," and praises his "incredible top notes, adding about his high F (F5) in "Credeasi, misera": "With him it's not a scream, it's a beautiful sound."  Mezzo-soprano Joyce DiDonato adds: "He is always in service of the music," she said. "His natural instrument is just incredibly beautiful. The word 'honey' comes to mind. He also has technical prowess and agility."
Brownlee grew up with little exposure to classical music, but had an extremely musical childhood, playing trumpet, guitar and drums, and singing Spiritual music in church. According to a March 11, 2011 New York Times article:
"After performing in a high school music competition, Lawrence Brownlee was approached by an audience member who suggested he sing opera. Mr. Brownlee, who had had no exposure to classical music growing up, responded: 'Me, opera? Are you crazy?'"
Planning on a degree in law, Brownlee attended Anderson University in Indiana majoring in general studies while taking pre-law and voice. It is there that he joined Kappa Alpha Psi Fraternity of which he is now a proud lifetime member. He won a scholarship to Indiana University Jacobs School of Music for graduate studies where he studied with soprano Costanza Cuccaro, and earned Master of Music.
Brownlee was named the Seattle Opera's 2008 Artist of the Year, received the Opera Company of Philadelphia's 2007 Alter Award for Artistic Excellence, and was the winner of both the 2006 Marian Anderson and Richard Tucker Awards, a feat never before achieved by any artist in the same year. He participated in young artist programs at both the Seattle and Wolf Trap Operas andwon the Metropolitan Opera National Council Auditions in 2001.
Brownlee has been featured in nearly every major theater in the world and enjoys a relationship with many premiere conductors and symphony orchestras. Among his other memorable engagements are: Cenerentola in Milan, Houston, Philadelphia and the Met; L'italiana in Algeri in Milan, Dresden, Boston and Seattle; I puritani in Washington and Seattle;Mosé in Egitto in Rome; Il turco in Italia in Toulouse and Berlin; Tancredi with the Detroit Symphony and on an eight-city European tour with the Orchestre des Champs-Élysées; La donna del lago in Washington; Semiramide and L'elisir d'amore, both at the Caramoor Festival; Armida at the Metropolitan Opera; La Fille du régiment in Hamburg, Cincinnati and at the Metropolitan Opera; Salieri's Axur, re d'Ormus in Zurich; L'ape musicale in Vienna, and the world premiere of Lorin Maazel's 1984 at Covent Garden. In the orchestral arena, he has been heard in: Bach's Magnificat in Cincinnati; Messiah in Houston, San Francisco, Detroit, Baltimore and Indianapolis; Israel in Egypt in Cleveland; the Mozart Mass in C minor in Chicago and Baltimore; Carmina Burana with the Boston Symphony Orchestra at Tanglewood, and highlights from Porgy and Bess with the New York Philharmonic (including a "Live From Lincoln Center" telecast). Brownlee has performed recitals at the Kennedy Center, Lincoln Center's Avery Fisher Hall, in Atlanta, Tokyo, on London's Rosenblatt Series, and others around the United States under the auspices of the Marilyn Horne Foundation. . He has performed recitals at the Kennedy Center, Carnegie Hall, Lincoln Center's Avery Fisher Hall, Grand Théâtre de Genève in Switzerland, and on London's Rosenblatt Series.
His recordings include both opera and Spirtuals, the music of his youth.( http://www.lawrencebrownlee.com/disc2011.asp)
Brownlee lives in Atlanta with his wife Kendra and their two children. His passions include his family, photography and salsa dancing.