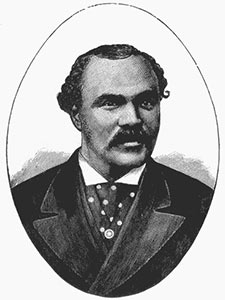 Thomas J. Bowers – 1823 – 1885
Thomas J. Bowers, tenor, was born in Philadelphia, PA in 1823 to John, Sr. and Henrietta Bowers, both active in the community. Father John, Sr., made his living as a dealer in second hand clothing and was a founding member of the Pennsylvania Anti Slavery Society.
Thomas received his early musical training from his older brother John, Jr., who taught him organ and piano. At the age of eighteen, Thomas took John's place as the organist of St. Thomas African Episcopal Church in Philadelphia where John, Sr. was a deacon.
Trained as a tailor, he opened an upscale men's wear shop with his brother John, while studying voice with the renowned Elizabeth Taylor Greenfield, appearing with Greenfield in recital at the Samson Street Hall in Philadelphia in 1854. Critics soon called him the "American Marion" and the "Colored Mario, "comparing him to Giovanni Matteo Mario, one of the most celebrated Italian tenors of the day.
Thomas was reluctant to pursue a performing career but ultimately decided to do so, as he told a friend, "to give the lie to Negro serenaders (minstrels), and to show to the world that colored men and women could sing classical music as well as members of the other race."1
Under the management of Colonel J. H. Wood, Bowers toured the US and Canada. When he learned that a party of six blacks were not permitted to occupy the first class seats they had purchased for his Hamilton, Ontario, appearance, Bowers refused to perform. He established a policy of never performing before any segregated audience.
In 1964 the noted African American actor William Marshall portrayed Thomas Bowers in an episode on the television series Bonanza. Bowers died on October 3, 1885, in Philadelphia
Sources
1) Philadelphia Inquirer, Philadelphia's Black Elite In The Shadows Of History 1840-1940, February 8, 1988
"African American Concert Singers Before 1950" By Darryl Glenn Nettles Jefferson, NC: McFarland. ISBN 0786414677.